The idea of ​​sealing one's words of love with a wax seal so as to ensure that only the recipient knows of your passion is oh so very romantic, don't you think? Wax seals date back to the Middle Ages and were originally made using 2/3 beeswax and 1/3 resin. The wax was pressed using a handheld seal or a signet ring. Such a ring was possessed only by aristocracy and church leaders. The pope used a signet ring called the "Ring of the Fisherman" to seal papal papers and personal correspondence up until 1842. Even now, a new Fisherman...
---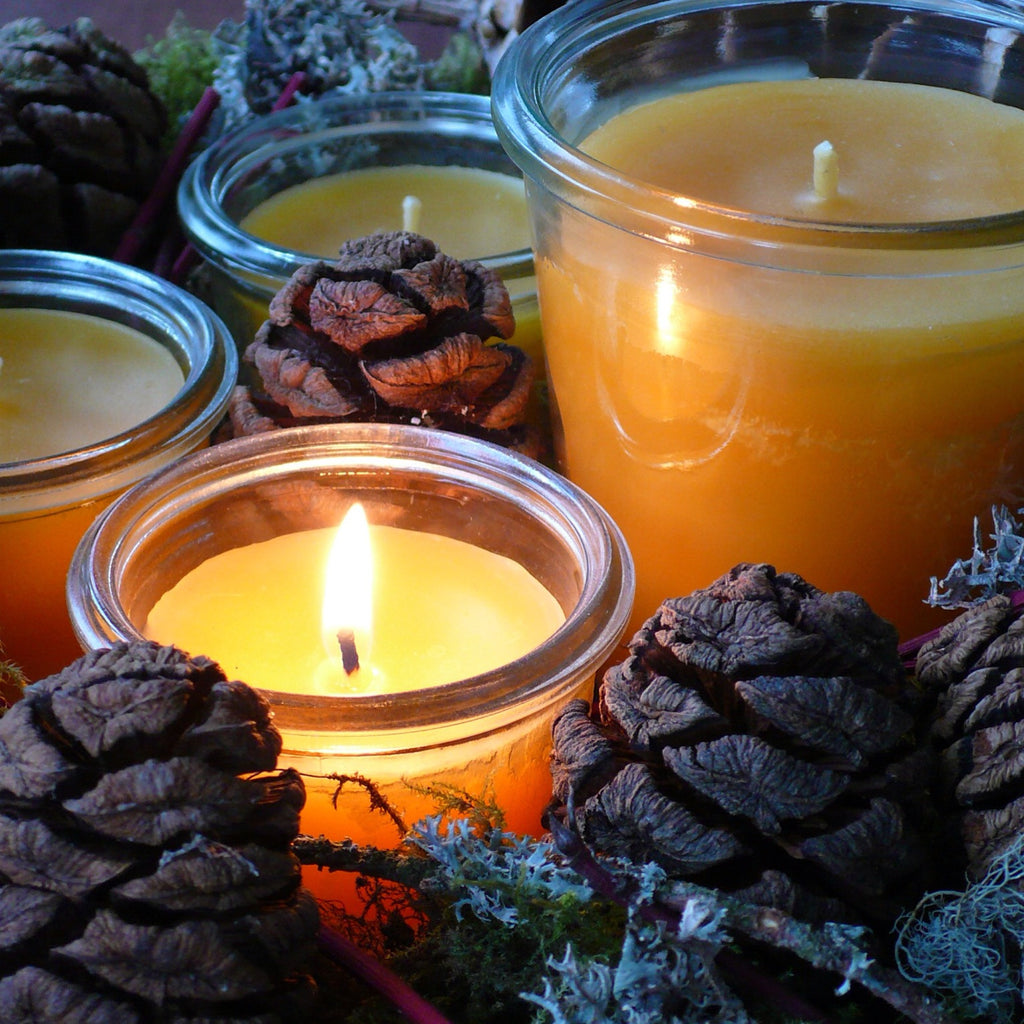 Advent, Advent, a little light is burning... Yes, it's almost time to light the first candle on the advent wreath. In celebration of the four weeks of Christmas, I'm offering you a 10% discount on the purchase of any four candles from apidae candles. Just use the code ADVENT2014 at www.apidaecandles.de for my customers in Europe or at Etsy for those of you in the USA. But where does this tradition come from? After a bit of research, it doesn't seem quite clear. Some evidence indicates that the wreath was already around in the Middle Ages. Other evidence shows that...
---
What do soccer and bees have to do with one another? I've been watching a lot of soccer lately (along with the rest of the world) and asked myself why the goal nets at the World Cup are hexagon shaped? Have you ever noticed that most nets at your local soccer field are made up of squares and not hexagons? This hexagon-shaped netting was first used at the 2002 World Cup. In the past, the goal nets had a square-shaped mesh. But bees know best. Bees always choose the hexagon shape when building their honey comb. But why? "It is...
---
William Morris (1834 - 1896) was an English textile designer, writer, artist and was involved in the English Arts & Crafts Movement. I love this quote and how fitting at the start of flea market season. Make this your spring cleaning mantra when walking through your home. An uncluttered house lifts your spirit, gives you joy and room to breathe. Yes, it can be overwhelming to tackle years of material accumulation. But I find taking it one room at a time lets you focus on one area and at the same time motivates you to stay on track when you...
---
Michael Smith had an idea, a very brave (or crazy) idea. A graduate student at Cornell University, Smith studies the behavior and evolution of honey bees. Interesting, for sure. But in all of his research, he couldn't find any data showing the worst place on a human body to get stung by a bee. In 1984, Justin Schmidt developed the Schmidt Sting Pain Index , a scale that rates the pain of insect stings from 1 to 4. Schmidt's descriptions are wonderful to read. Steer clear of bullet ants after reading this: Animal: Bullet ant Smith Index: 4.0+ Description: Pure, intense,...